Who We Are
We know a thing or two about comfort. We've been perfecting it for over 65 years. Dearfoams has done comfort better than anybody else.
With the softest, warmest fabrics and extra cushioning in every pair, there's no slipper that feels better. Because comfort never goes out of style.
We continue to remain the consumer brand of choice with the highest unaided brand awareness of any slipper brand. Customers indicate they buy Dearfoams far more often than competitive brands.
What We Stand For
Comfort.
Dearfoams is known for soft, warm fabrics and plush cushioning.
Style.
A mix of timeless looks and fresh, fashion-forward designs means there's a slipper to fit every style.
Quality.
Superior materials and innovative technologies ensure the level in comfort, fit and durability that only Dearfoams can deliver.
The Dearfoams Difference™
Better construction and durability for best-in-class quality and comfort.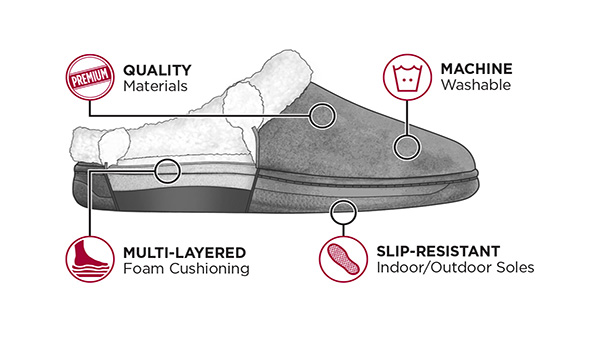 The Dearfoams Guarantee™
If you're not completely satisfied with the quality of our product, please contact us at:

Dearfoams Customer Care
13405 Yarmouth Road, NW
Pickerington, OH 43147
dearfoams.com | 1-800-628-0322